Federica Oradini
University of Westminster


Gunter Saunders
University of Westminster

Article by Federica Oradini and Gunter Saunders
Accessibility initiatives have, up until quite recently, been driven mainly by considerations of the needs of students with disabilities (JISC 2018). Whilst this remains an understandable focus, digital technologies provide much scope to drive better learning outcomes for everyone, especially when deployed and used within physical classroom spaces. In many respects, considering the needs of students with disabilities can now be done against a background of curriculum design that is aimed at making the learning experience for all students more inclusive (Higher Education Academy 2018).
For example, providing alternative formats for key online learning materials (e.g. semantic HTML, ePub) should certainly aid students with visual issues but can at the same time support those with a learning preference served by audio-based content. Similarly, with videos, adding captions to assist students with hearing problems can also directly help students from overseas, when English is their second language. There are indeed a wide range of ways that online technology can be used to support the needs of students and at times this can be enough (e.g. for students who for whatever reason cannot travel to campus to attend face to face classes). However, many of these online advantages have tended to serve the individual, working independently to study key information and to complete assignments. Now though, with it becoming more straightforward to integrate the virtual with the physical, it is possible to exploit collaboration opportunities more readily. These can either be with all students within the one physical space, making use of the technology to make it easier for them to actively contribute, or indeed with some students joining others in the physical space through virtual means.
Across the Higher Education sector, it is now common to find classrooms that depart significantly from the traditional style of rows of tables and chairs (Oradini et al., 2019). Different furniture can provide scope to teach in a more flexible fashion, moving easily from didactic approaches to a much more student-centred active learning model (see examples in figure 1 below).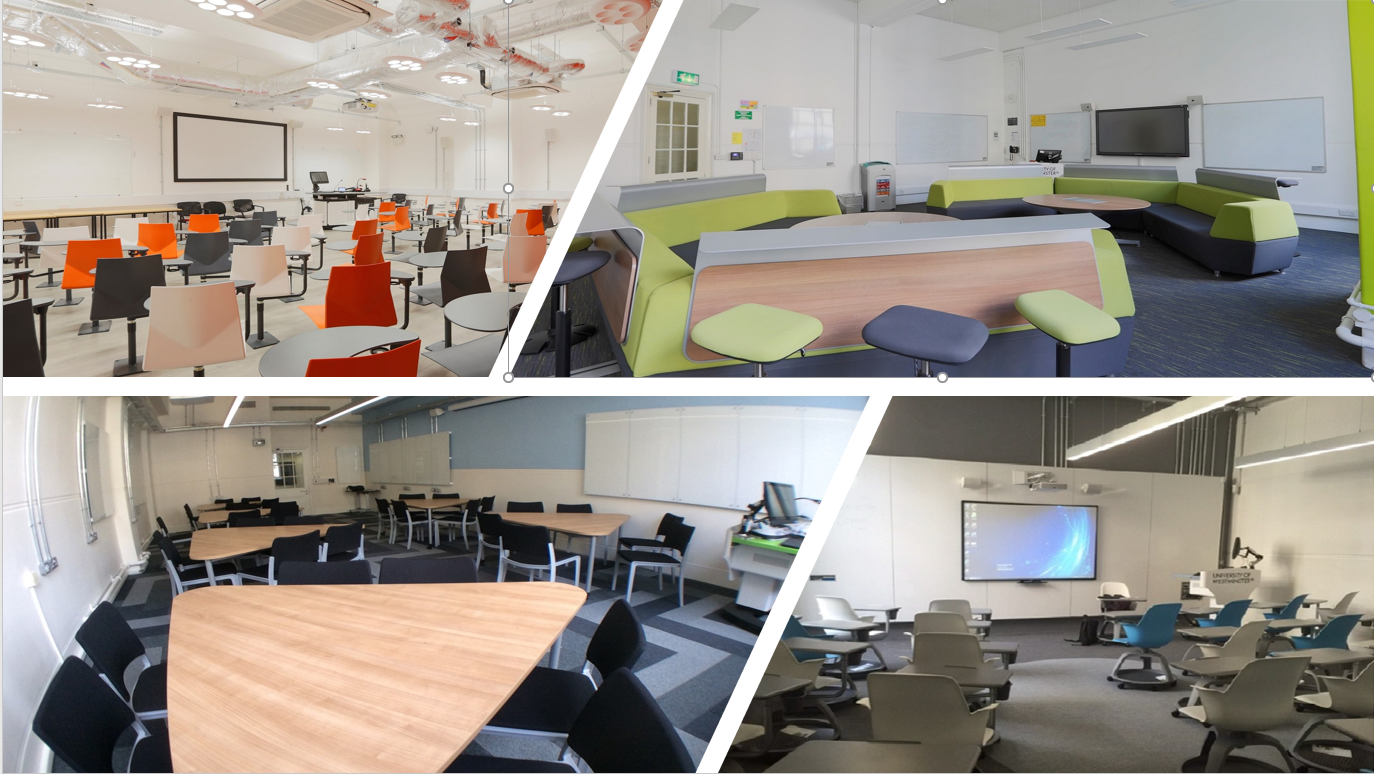 When newer furniture arrangements are combined with simple technologies that encourage student engagement and collaboration through digital channels, then the nature of the learning space really starts to become one that is both more inclusive and representative of working in the 'real' world. A specific room arrangement, probably representing the current 'state of the art' form of active learning classroom is shown in figures 2a and 2b.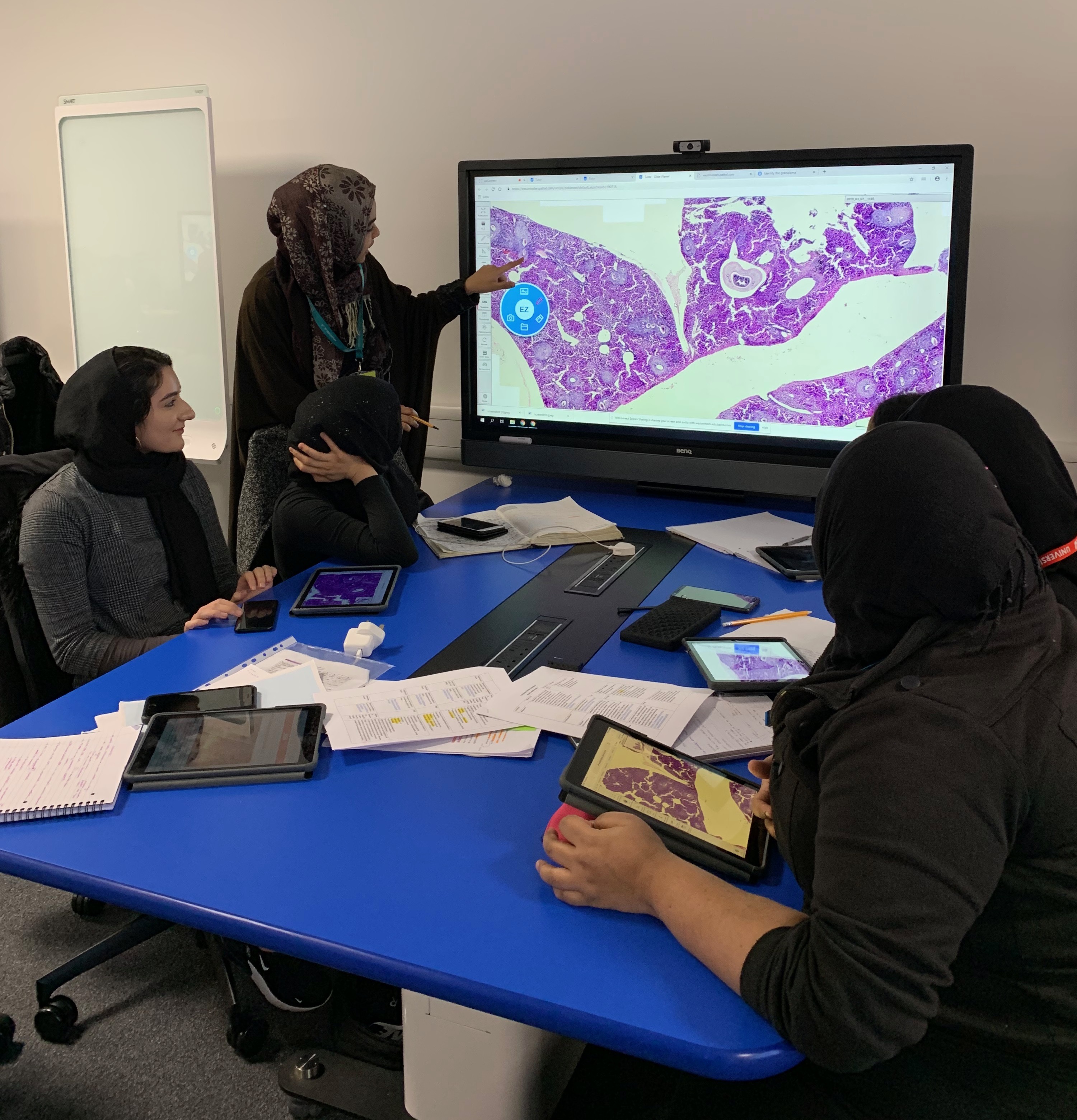 This space drives the use of collaborative in-class approaches, providing each group with its own digitally enabled group table. A group's collective efforts can be displayed on their own table screen as they work and build an artefact. A tutor can manage the displays in the room and can show any group's output alone or side by side, on all of the screens for whole class discussion. Such spaces address inclusivity and the digital agenda whilst also serving to make classroom work more inclusive for all (Saunders et al., 2018).
Higher Education Academy (2018) Inclusive curriculum design in higher education, https://www.heacademy.ac.uk/knowledge-hub/inclusive-curriculum-design-higher-education(accessed April 2019)
Joint Information Systems Committee (JISC) (2018) Getting started with accessibility and inclusion, https://www.jisc.ac.uk/guides/getting-started-with-accessibility-and-inclusion(accessed April 2019)
Saunders, G., Oradini, F. and Hartley, P. (2018) When pedagogy collides with physical reality: the (re)design of teaching rooms to enable teaching excellence. Educational Developments. 19.1, 16-20.
Oradini, F., Saunders, G. and P. Hartley (2019) Classrooms for flexible, adaptable approaches to curriculum delivery – responding to staff and student feedback, In: Future Learning Spaces: Space, Technology and Pedagogy, pp33-40.
Federica Oradini
University of Westminster
Federica Oradini is Senior Lecturer in eLearning and the University Mobile Learning and Development Co-ordinator at the University of Westminster. She is a HEA Senior Fellow. She designs and implements e-learning and blended learning courses in collaboration with the University's faculties, by providing expertise in instructional design and advice on pedagogical aspects. She has been an e-tutor on a variety of online distance learning courses since 2009. She also supports professional development for academic staff, conceiving and running staff development workshops about the use of online platforms and web tools to enhance and support learning. Recently her role has been focusing on the use of mobile technologies. During her stay as visiting professor, she taught the Media Education cours in the Master's Program.
Gunter Saunders
University of Westminster
Gunter has worked in Higher Education for over 30 years teaching and researching in Microbial Genetics and developing approaches for the integration of technology into teaching. Gunter is a Principal Fellow of the Higher Education Academy, nationally recognised for his contributions to the support and development of learning and teaching, including classroom design. Gunter is currently leading the university's development oftechnology enhanced working and learning. This includes overseeing a 5 year rolling programme of classroom renewal that has been designed to deliver classrooms, informed bystudent and staff feedback, that are adaptable, technology enabled and will support student centred learning. he has taught the Media Education course in the Master Program together with Federica Oradini.