Nelle giornate del 6 e 7 giugno 2019 si è svolto a Novedrate HELMeTO, "International Workshop on Higher Education Learning Methodologies and Technologies Online", un evento scientifico focalizzato sull'innovazione nella didattica telematica, organizzato su iniziativa di docenti ecampus delle facoltà di Psicologia, area pedagogia e scienze motorie (prof. Pietro Picerno e prof. Paolo Raviolo), e la facoltà di Ingegneria, area ingegneria dell'informazione (prof. Pietro Ducange e prof. Riccardo Pecori), e di una delle principali università telematiche spagnole, Universidad Internacional de La Rioja (prof. Daniel Burgos).

Uno degli organizzatori, infatti, è Paolo Raviolo, professore associato in Ecampus e membro di Cremit. L'evento è stato attivamente supportato dalla Sirem (Società Italiana di Ricerca sull'Educazione Mediale), grazie all'interesse del prof. Pier Cesare Rivoltella, fondatore e past-president, intervenuto all'apertura, nonché direttore scientifico di Cremit, e del prof. Pier Giuseppe Rossi, presidente.

La call for paper del workshop, lanciata a gennaio 2019 ha raccolto 40 proposte da studiosi provenienti da più di 10 paesi, che sono state valutate dal comitato scientifico secondo un processo di revisione cieca per selezionare i 30 contributi invitati al workshop.
Qui l'articolo di presentazione del convegno con i link diretti alla Call for papers e al repository degli interventi.

Al comitato scientifico hanno partecipato, su invito, 26 studiosi, di cui 8 stranieri (Universidad Internacional de La Rioja  , Spain, Open University, Netherlands, Northern Arizona University, USA, Central China Normal University, China, Symanto, Germany, University of Valladolid, Spain, University of North Texas, USA, Technical University of Munich, Germany), 6 appartenenti ad altre 4 tra le principali università telematiche italiane (Pegaso, Unitelma Sapienza, Giustino Fortunato, Niccolò Cusano), oltre a rappresentanti di molte università non telematiche (Torino, Milano, Roma "La Sapienza", Bari, S. Raffaele) e alcune società scientifiche di rilievo quali Siel  e Sirem.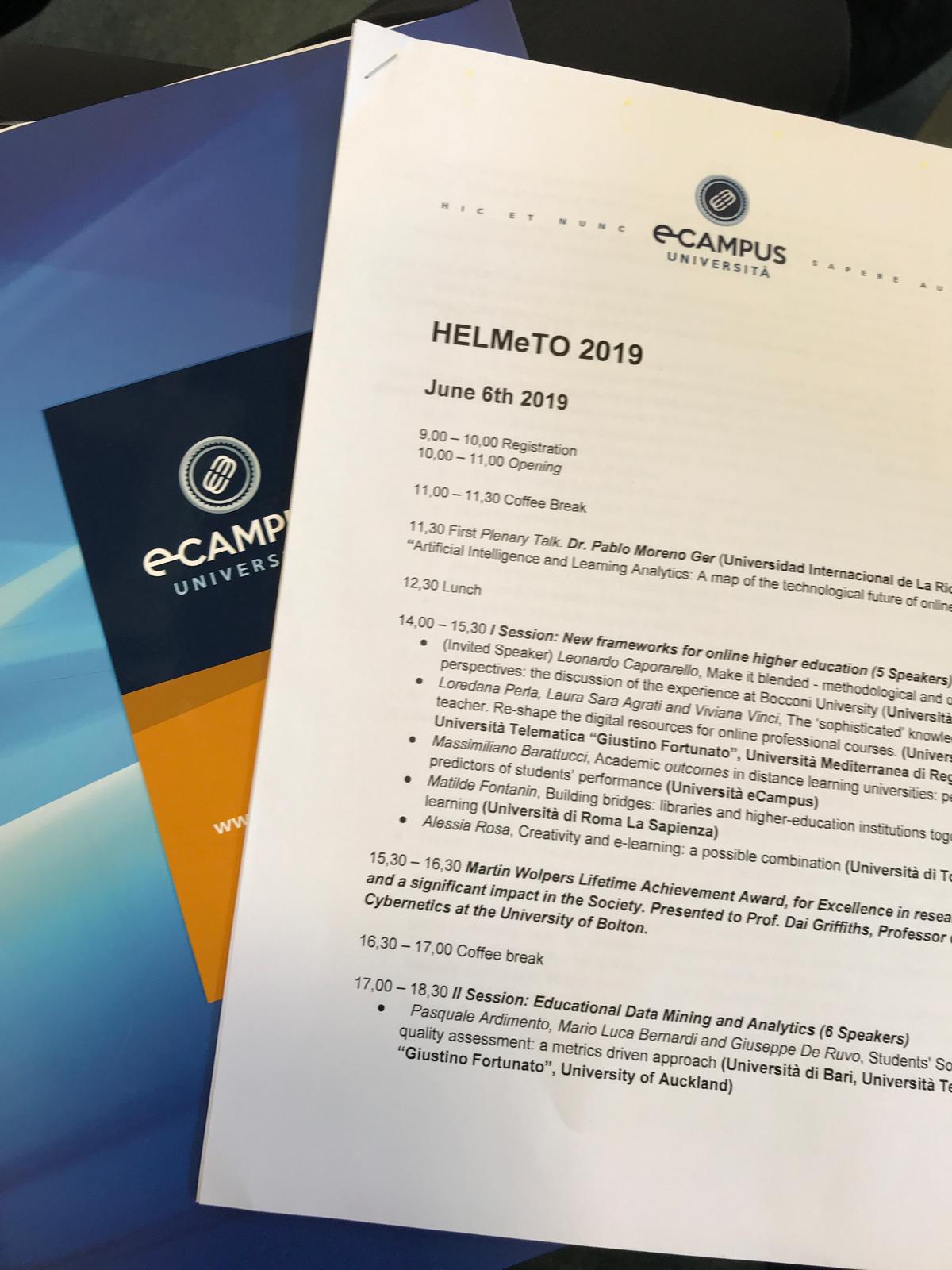 L'evento si è articolato su due temi principali e una special track:
– online pedagogy and learning methodologies, articulated in tree sessions:

– Developing skills in Digital Environments, focused on digital skills;
– New frameworks for online higher education, focused on models;
– Implementing Online Higher Education, focused on experiences;
– learning technologies, structured in two sessions:


– Educational Data Mining and Analytics;
– Technologies and Tools for Enhancing the Distance Learning Process;
– Special track: the challenge of online Sport and Exercise Sciences university programs.
Nel corso dell'incontro è stato attribuito un premio scientifico internazionale: "The Martin Wolpers Lifetime Achievement Award, for Excellence in research, education and a significant impact in the Society", conferito al prof. Dai Griffiths, Professor of Educational Cybernetics, University of Bolton (UK).